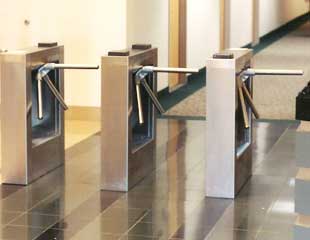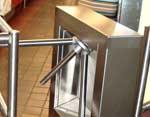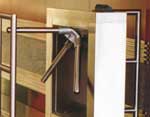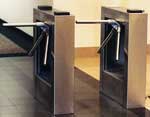 Official Literature
Model 136SS/00 Tripod Turnstile
Designed with bank lobbies and corporate offices in mind. Sleek body style will blend in beautifully with any surroundings. Access control devices can be mounted on either or both ends. Heaviest duty mechanism for lowest maintenance and longest service life. Versatile control interface. Stainless steel a standard but other materials available.
Short Form Specification
WEIGHT: Fixed 170 lbs. Net – 210 lbs. crated Portable 225 lbs. Net and 260 lbs. crated.
COVER: ANSI #4 Stainless steel with #4 finish, .078″ thick, 0.25″ radii corners, sides 2.5″ deep.
Cabinet: ANSI #4 Stainless steel with #4 finish. Welded standing rib reinforced design double wall (cavity) construction. Each wall .078″ thick, 1/4″ thick stainless steel base plate. Electronics housing with access door and two locks.
Mechanical Mechanism: Ratchet of 1″ x 6.5″ machined cast iron. Use aided by springs of 0.175″ dia. spring steel. Motion stabilized by large rotary shock absorber and ´" thick cast iron two-lobe cam. Self Centered by 1/2″ steel compression shoe.
Unlocking Controls: One continuous-duty rated 110 VAC or 240 VAC or 24VDC solenoid with 620% of required strength. Solenoid operates for 45 milliseconds per passage. All unlocking elements mechanical. No time relays or transformers.
ARMS: Stainless steel tubing, brushed finish, .049″ thick walls, spun closed ends.
HUB: Solid steel with solid steel taper pin mounting.
PORTABLE: 0.04″ thick steel floor tread with up to 22″ opening, force fit stainless steel railing with .0112 wall thickness hand-grip loops, 3.5″ diameter solid rubber wheels.