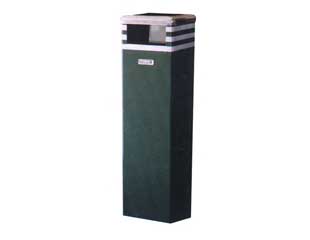 Ticket Box
The Perey Ticket Box is design-ed to match the form and finish of the Models "TC", "HD" and "HDAC". It is tall enough to keep people from thinking it is a trash receptacle and large enough to allow easy deposit-ing of tickets into the top. There are two baffles to prevent ticket theft and a locking steel door. Tickets are deposited into a large canvas bag.
Model "Ticket Box" — Short Form Specification
WEIGHT:
Fixed 140 lbs. Net – 190 lbs. Crated, Portable 225 lbs. Net – 275 lbs. Crated.
COVER:
Deep drawn stainless steel, .078" thick, corners with 1-3/8" radii.
Cabinet:
Welded double wall (cavity) construction Each wall .078" thick. 2"
blending outer wall radii, 1/4" thick stainless steel base plate.
Mechanical Mechanism:
Ratchet of 1" x 6.5" machined cast iron. Use aided by
springs of 0.175" dia. spring steel. Motion stabilized by large rotary
shock absorber and ´" thick cast iron two-lobe cam. Self Centered by 1/2"
steel compression shoe.
Unlocking Controls:
One continuous-duty rated 24VDC solenoid with 620% of
required strength. Solenoid operates for 45 milliseconds per passage. All
unlocking elements mechanical. No time relays or transformers.
ARMS:
Stainless steel tubing, .049" thick walls, spun closed ends.
HUB:
Grey cast iron, taper pin mounting.
PORTABLE:
0.063" thick machined cast iron floor tread, force fit
stainless steel railing with .0112 wall thickness hand-grip loops, 3.5"
diameter solid rubber wheels recessed into cabinet.