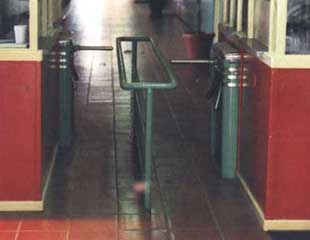 Super Kompak Coinpassor (#055)
A cousin to the Model "HD" (#048), the most prevalent turnstile worldwide. This model features a mechanical coin receiver that requires no electrical power and can be used outdoors in the rain and snow. Includes a high capacity that typically holds over 7,000 tokens.
Model "Super Kompak Coinpassor" — Short Form Specification
WEIGHT:
Fixed 145 lbs. Net – 195 lbs. Crated, Portable 230 lbs. Net – 280 lbs. Crated.
COVER:
Deep drawn stainless steel, .078" thick, corners with 1-3/8" radii.
Cabinet:
Welded double wall (cavity) construction Each wall .078" thick. 2" blending outer
wall radii, 1/4" thick stainless steel base plate.
Mechanical Mechanism:
Ratchet of 1" x 6.5" machined cast iron. Use aided by springs of
0.175" dia. spring steel. Motion stabilized by large rotary shock absorber and ?" thick cast
iron two-lobe cam. Self Centered by ?" steel compression shoe.
Unlocking Controls:
Machined white bronze and stainless steel mechanical coin receiver
and hardened steel linkages.
ARMS:
Stainless steel tubing, .049" thick walls, spun closed ends.
HUB:
Gray cast iron, taper pin mounting.
PORTABLE:
0.063" thick machined cast iron floor tread, force fit stainless steel railing
with .0112 wall thickness hand-grip loops, 3.5" diameter solid rubber wheels recessed into cabinet.