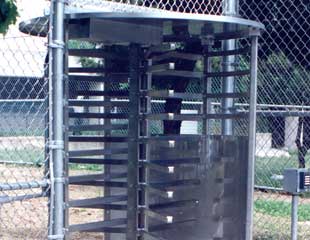 Impenetrable AA Roto-Gate
This Roto-Gate is attractive enough to be used in flagship stations but very cost effective. Its average service life at stations is approxi-mately 37 years. It is specially configured to allow transit authorities to provide unattended exits without worrying about vandalism. Its non-welded construction prevents vandals from breaking off arms and its one-way mechanism is simple and immensely rugged. It is available in steel or stainless steel. Other models are available for A.F.C. system control.
Impenetrable Type "AA" Roto-Gate — Short Form Specification
Weight: 815 lbs. Net – 870 lbs. Crated.
Arms: Square steel tubing, walls 0.097" thick, ends spun closed, bottom arms with heel guards.
Rotor and Barrier Columns: Five angles of 0.25" thick steel, sixty-three malleable cast iron clamps, non-welded construction.
Vertical Cage Members: 3 "U" channels 0.097" wall thickness, passage sheet 4′ high by 5'2" length of 0.048" thick steel, 7 reinforcing bands of 0.38" thick steel.
Mechanism: All steel and machined cast iron overrunning clutch in 6" by 6" by 2.5"
Bottom Bearing: Machined Grey Iron Casting 1.50" thick, 12" diameter.
Ceiling: full round steel sheet 0.052" thick with 1"x1" circular reinforcing angle at edge.