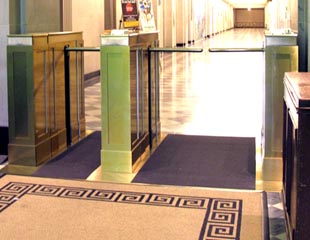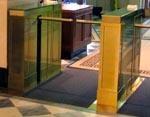 Technical Documentation
Model 137BS/FL Federal and Model 137BS/AL Federal Drop Arm Turnstiles
In the 1930′s the U.S. Government built a great many large office buildings with a similar neoclassical/art deco design. We have developed a way to bring these lobbies up to the standards in Homeland Security Presidential Directive-12 with turnstiles that have a similar architectural style…The Model 137BS Federal.
The Model 137BS Federal has a rectilinear cabinet shape with solid decorative panels of various thicknesses added to achieve lines reminiscent of the outside walls, inner columns, decorative details and elevator doors of these buildings.
Often these buildings are on the listings of historical Landmark Building or have very ornate floors or floors whose stone is no longer available. In these instances we offer our Non-Invasive Floor Mounting System (NIFMS). The NIFMS is built specifically for each site. The NIFMS is less than 1/2″ higher that the surrounding flooring but all wiring is under the deck. Walking on NIFMS is as solid as walking on the building floor.
Like all of our Drop Arm Turnstiles, this model has one or two passage barring arms that drop into recesses in the cabinet. An array of optical sensors monitors the passageway and provides optical-turnstile alarm functionality. Once the barrier has dropped out of the passageway, the unit becomes a completely functional optical turnstile.
We have been manufacturing Optical Turnstiles since the late 1950's. We have often found that since Optical Turnstiles do not have barriers, the timing of when alarms are triggered and the pattern of traffic flow has a far greater impact on Optical Turnstile use than they have on Tripod Turnstile use (when there is a barrier people tend to be sure they are allowed to pass through long before they are in the turnstile's passageway).
By adding a barrier arm, the Drop Arm Turnstile provides a compromise between the greater security of a tripod turnstile and the openness of an optical turnstile.
We have recently added a remote programming feature to our Optical Turnstile controller. Our new "SuperController" can be remotely programmed to meet a customer's changing requirements. This can be accomplished without the need for a factory technician's visit.
When operational requirements change, simply call us with the new requirements and we will e-mail you the new programming, upload and test the new program using a laptop computer.
All of our Drop Arm Turnstiles are programmable to allow the following features:
a. Uni-Directional Operation
b. Bi-Directional Operation
c. Remote "Lockout" Of One Or Both Directions
d. Unauthorized Entry Alarm Local and Remote
e. Unauthorized Exit Alarm Local and Remote
f. Piggy Backing Alarm Local and Remote
g. Package Only Entry Alarm Local and Remote
h. Package Only Exit Alarm Local and Remote
i. Slow Travel Alarm Local and Remote
j. Walk Away Alarm Local and Remote
k. Crawl Alarm Local and Remote