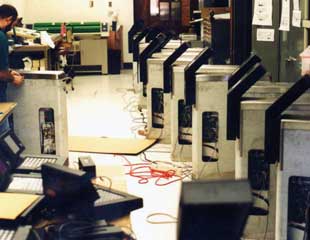 Field Upgrade in Progress
We have anticipated the requirement of most facilities to upgrade their turnstiles for interfacing with newly developed ticketing systems and technologies. The Model "HD" with the Optional Internal Ticket Box can be upgraded for control by any automated ticketing system. For example, if you have a Model "HD" with Hand Control and Internal Ticket Box, in the future you can remove the Hand Control and install our electronic solenoid controls. We can provide internal electronics mounting panels that can be used to hold the ticketing system electronics and be installed onto our "Hard-Point-Mounting-System".
Field Upgrade — Short Form Specification
WEIGHT:
Fixed 140 lbs. Net – 190 lbs. Crated, Portable 225 lbs. Net – 275 lbs. Crated.
COVER:
Deep drawn stainless steel, .078" thick, corners with 1-3/8" radii.
Cabinet:
Welded double wall (cavity) construction Each wall .078" thick. 2"
blending outer wall radii, 1/4" thick stainless steel base plate.
Mechanical Mechanism:
Ratchet of 1" x 6.5" machined cast iron. Use aided by
springs of 0.175" dia. spring steel. Motion stabilized by large rotary
shock absorber and ´" thick cast iron two-lobe cam. Self Centered by 1/2"
steel compression shoe.
Unlocking Controls:
One continuous-duty rated 24VDC solenoid with 620% of
required strength. Solenoid operates for 45 milliseconds per passage. All
unlocking elements mechanical. No time relays or transformers.
ARMS:
Stainless steel tubing, .049" thick walls, spun closed ends.
HUB:
Grey cast iron, taper pin mounting.
PORTABLE:
0.063" thick machined cast iron floor tread, force fit
stainless steel railing with .0112 wall thickness hand-grip loops, 3.5"
diameter solid rubber wheels recessed into cabinet.